In episode 26, host Paul Di Liegro talks with award-winning author Joe Paranteau, a sales rockstar who has sold in excess of $ 1 billion dollars – and that was just in a two-year span. When it comes to big deals, Joe has been a mega sales superstar.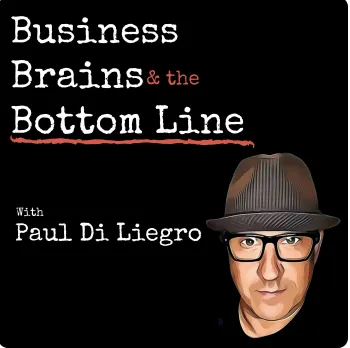 Your ability to sell has an impact on every aspect of your life. Many people, however, never learn basic sales skills. It's not taught or encouraged in school. Only a few colleges have degrees in selling, and few even treat it seriously. Yet millions of people have found that their ability to sell well, has translated to career success.
Joe Paranteau, the author of " Billion Dollar Sales Secrets", is a leading expert on sales, and he shares what is dysfunctional about sales efforts today, and gives timely advice to build trust and deliver value. He focuses on what people can do to boost their sales abilities, and win deals.
The world has changed dramatically in the last year, as has the nature of sales. Please tune in to this episode, and don't spend another minute wondering how you will be the master of your sales destiny.
Sales skills are critical to achieving success in various aspects of life, yet many people never learn the basics. Despite being a fundamental part of business, sales are not taught in schools, and few colleges have degrees in selling. This lack of emphasis on sales education has led to a shortage of professionals with strong sales skills. However, millions of people have found that mastering sales skills can lead to career success.
Anyone who wants to make it through the busy selling season should listen to the episode with Joe Paranteau. As the world changes quickly, businesses must come up with new ways to sell and deal with new problems. Paranteau's experience selling over $1 billion in just two years makes him the perfect expert to offer advice on these issues.
To improve sales performance, listeners will learn how important it is to build relationships with clients, understand their needs, and deal with objections. Paranteau's insights on what's wrong with sales efforts today and his timely advice on how to build trust and deliver value will help sales professionals and business leaders succeed.
In today's world, it is more important than ever to have strong sales skills. This episode of the "Business, Brains and the Bottom Line" podcast gives listeners actionable advice to help them get through a busy selling season and become leaders in their fields. Tune in to hear from one of the top sales experts in the industry and take the first step toward mastering your sales destiny.
Hear Paul & Joe's conversation here:
Ep. 26: Billion Dollar Sales Secrets | Prescriptive Data Solutions | Listen Notes | Spotify | Buzzsprout | iHeart Radio | TuneIn