Sales reps are often their worst enemies. Why? Because they make 5 common sales mistakes that cost them sales and hurt their careers. Here are the five common sales mistakes and how you can avoid them:
 Mistake #1: You sound like a salesperson
You're trying to be someone you're not. For sales to go well, you have to be YOU. One of the common rookie sales mistakes is pretending to be someone else. Maybe you've seen a sales rep who seems to have it all together, and you're trying to model their approach. They are crushing it in every sales call and are a smooth talker. That's how top producers are supposed to look – RIGHT? 
WRONG!
Be authentic. Be genuine. People can spot a fake from a mile away and have no problem rejecting you and your offer.
Words matter
The words you say and how you say them matter. You must be authentic, and the type of person buyers can trust. Trust begins with understanding and the empathy that comes from listening more than you talk. It's amazing to think sales mistakes like this happen.
Often, new sales reps think there is magic in every word they say, so they blather on about their product or solution in the sales call. Avoid talking too much. Instead, listen and ask questions to understand their situation thoroughly.
A typical sales mistake for sales reps is to pitch rather than have a conversation. A conversation is a two-way street. It's not a one-way trip. It's not about you. It's about them and what they need.
Listen First
Sometimes it's not what you say that gives you away. You are too busy sharing all the great details of your sales offer to notice your customer has lost attention and is now reading emails on their phone. You are not curious enough about what matters to them.
Listen to understand. You will be ready to move forward when you know the situation. Sales teams who listen close the deal.
The Right Message is Appropriate
Another way you sound like a salesperson is by HOW you deliver your message. Your sales presentation should harmonize with customers and what they expect. If you come on too strong, your prospects will become suspicious and believe you are trying to force a decision for your self-interests. Don't rush it, and don't create a false sense of urgency at the expense of the relationship.
Be bold
The flip side of coming on too strong is a lack of confidence. You need to project confidence, even if you don't feel it. If you don't believe in yourself, your product, or your company, why should your customer?
If you know your stuff, people will want to work with you. Preparation builds your swagger better than anything and will help you stand out in sales
Mistake #2: You don't qualify for the deal
I get it. Salespeople, especially new ones, are always excited at the first hint of success. You work hard, and as soon as you hear buying signals, you assume it's a done deal, only to have your vibe crushed later when the deal falls apart.
It's a common sales mistake salespeople make. When it happens, the sales rep wonders how to explain the mistake.
The antidote is to qualify the deal. What makes it a good fit for your time and attention and a good fit for your prospect? With guidance, your sales teams will be equipped to prevent one of the most common mistakes in selling.
What is qualification, and why is it essential to your sales team?
Qualification determines whether a prospect is ideal for your company, product, or service. You don't want to waste your sales team's time (or your prospect's time) when you are not in mutual alignment.
Patterns give you clues about what matters to customers. These patterns can become the basis for your qualification of new customers.
The consequences of not qualifying your opportunity
You could waste valuable time if you don't qualify for your sales opportunity. You might sell a product or service the customer doesn't need or can't afford.
It's one of those sales mistakes made when you rush the deal. Understanding your customer's needs and budget is vital before proposing a solution. You might also sell to the wrong person or department (a common mistake) without qualification. Qualification is essential to ensure successful sales outcomes.
How to go about qualifying your opportunity
When qualifying for an opportunity, it's essential to understand the advantages and risks. Here are a few tips on how to go about qualifying an opportunity to determine if the opportunity is worth pursuing.:
Define your criteria. What are the most important factors to you in an opportunity? Is it the company's size? The location? The industry? The team? Decision makers? Define what's most important to you and use that as your guide when qualifying for opportunities.
Do your research. Once you've defined your criteria, research the companies that meet those requirements. Look at the company's website, read reviews, and speak with people who have worked there. The research will help you better understand what the company is like and whether or not it would be a good fit for you.
Ask the right questions. When interviewing with a company, ask questions to help you assess whether or not it meets your criteria. For example, if company size is crucial to you, ask how many employees they have. If location is important, ask where the company is based. By asking the right questions, you'll better understand whether the opportunity is a good fit.
Mistake #3: You don't prepare
One of the first steps in most sales processes requires a salesperson to do homework. In today's competitive marketplace, preparation comes before profits.
If you want to stand out in sales, sales reps can position themselves as trusted advisors and build long-term relationships by preparing to solve their customers' problems.
Preparation is vital for salespeople looking to be successful. Your prep should include pre-meeting planning, exploring public financial statements and social media accounts for potential clients, and understanding what success looks like in their industry.
Understand the culture, values, and what's essential to the business. Talk to employees, partners, and suppliers.
How often is this step taken for granted and disregarded?
I've been getting a lot of bad sales pitches lately, which is starting to wear on me. Here are just some examples of how people are squandering their first impressions.
The LinkedIn Sales Experiment
I've been experimenting on LinkedIn to see how widespread sales laziness is. In my profile, my first name is "-." I place my first and last name in the last name field. It's a surefire way to spot the spammers because their intro emails stand out.
Check this out.: 
Failing to proofread before hitting send.
You can tell there was little effort put in by proofreading this mass mailer before sending it off as another canned message of impersonalized information that doesn't address my needs or interests.
If you use automated technology for outreach, preview your emails against the actual targets.
Here I was targeted by age and geo. The sender didn't explore my background in Entrepreneurship.
Consider breaking your audiences into smaller, more targeted groups. Ask yourself, how can I stand out and relate to what matters for this person?
Missing an opportunity to make a connection.
Connecting virtually with prospects doesn't demand you to be a data scientist. A fast glance through social media and an internet search in 30 seconds can give you enough insights to create a memorable first connection.
I don't know about you, but this is a high-stakes way to prospect new business. Since LinkedIn is all about relationships, spammy outreach may get you blocked, and your target buyer may never give you access again – even if you move to a new company!
Take a moment to see what you can learn about the person you hope to turn into a customer.
Making assumptions early.
One of salespeople's biggest mistakes is assuming that their products or services are the only solutions to their customer's problems. In reality, customers often look for ways to solve their problems and are more likely to trust a salesperson who can help them do that.
Good preparation involves research and asking questions so that your offer will resonate with the customer's specific needs.
P.S. VCs – Coach your investment leaders to take their time to prepare.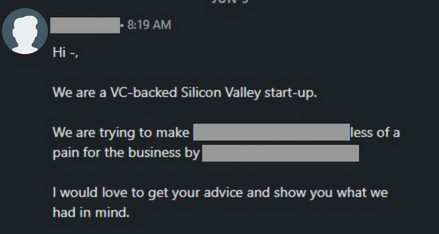 You have heard it many times: "If you do nothing, prepare for failure." What will you bring to the conversation that is new and insightful? What will you say that is memorable? How can you make your product or service stand out from the rest? Do your homework and be prepared to answer these questions.
Technology has made preparation easy; the rest is up to you.
Mistake #4: You don't have a clear sales destination
Let's imagine a journey together. What do we know about our destination? How will we get there, and how can I know this is the right path? How can we navigate uncharted territory full of uncertainty (and risk)? What awaits at each turn?
The journey is called "your complex sale." Many who wing it just hope things don't go completely wrong.
Your map is the sales process
A sales process is essential for success. By following a proven process, salespeople can increase their chances of making a sale and achieving their goals. There are dangers associated with deviating from the sales process. Customers can quickly become confused if salespeople do not signpost their goals and intentions. Confusion can lead to misunderstandings and mistrust, damaging the relationship and ultimately leading to lost revenue.
Salespeople who do not follow a sales process risk missing out on essential steps, such as listening to understand and analyze needs. As a result, salespeople must adhere to a sales process to maximize their chances of success, especially during times of crisis.
Signpost
We spoke about the importance of planning and having a goal goes hand-in-hand. You should have a plan and be able to explain what the meeting will cover so that your buyer can understand the purpose and know what to expect.
The best outcomes of meetings come from having a plan. Communicate it clearly with your customer before, during, and after the meeting so they know what's next on deck for them!
Closing is kind
Closing a sale is key to gaining commitment. Not having a destination is a foundational sales mistake that will frustrate your customers because you don't know how and when to close. If you don't ask for the next step or the sale, you will not get it. It's as simple as that.
Moving the meeting toward a mutually agreed upon destination, ending with action, is vital to success. You have to be willing to close, and you have to be able to handle objections. If you're not, you're just a professional visitor wasting everyone's time.
Mistake #5: You have low EQ (emotional intelligence)
Emotional intelligence is a critical success factor in many professions, and sales is no exception. But what exactly is emotional intelligence, and how important is it for salespeople? Let's take a closer look.
What is EQ?
It's helpful first to understand the concept of intelligence quotient, or IQ, before you can appreciate EQ. IQ tests show how smart a person is and how likely they are to do well in school and other intellectual activities.
On the other hand, emotional intelligence measures a person's ability to perceive, understand, and manage emotions.
It's important to note that emotional intelligence is not the same thing as being emotionless. People with high emotional intelligence are often very in tune with their own emotions as well as the emotions of others. They're also better able to regulate their emotions, even in difficult situations.
The Importance of Emotional Intelligence in Sales
Emotional intelligence includes skills like confidence, self-awareness, empathy, and self-control, so it shouldn't come as a surprise that salespeople need these skills. After all, selling requires building relationships with other people, dealing with hard conversations and objections, and keeping your cool when things get tough.
Studies have shown that salespeople with high emotional intelligence deliver double the results. In other words, emotionally intelligent salespeople outsold their less emotionally intelligent counterparts by more than 50%. Another group had a $6 return for every dollar invested in teaching EQ skills.
 In addition to being more successful at making sales, emotionally intelligent salespeople are more likely to succeed in other aspects of their careers. Research shows that emotionally intelligent people are more likely to get promoted and receive higher performance reviews than those less emotionally intelligent.
 So there you have it: Emotional intelligence is vital for sales success. If you want to improve your career in sales (or any other profession), work on honing your emotional intelligence skills.
Reading the room
One sales mistake resulting from low EQ is that you are not in tune and observing others during your interactions. People who can't read the room cannot adjust on the fly when necessary. Doing so demonstrates flexibility. If you're not flexible, you will not be successful in sales.
You have to be able to roll with the punches and adapt to change.
Empathy wins
If you can't put yourself in your customer's shoes, you will not be able to sell them anything. You need to be able to understand their needs and wants, and you need to be able to communicate that understanding.
I was judging a national collegiate sales competition earlier this year and noticed some sales reps asked the prospect before they opened their laptop, pulled out their phones, or took notes. The top-scoring ones always asked permission and explained why it was essential to the customer.
Another simple sales mistake that is 100% avoidable is not respecting customers' time. You will not be successful if you can't show up or end on time. You need to manage your time and appreciate your customer's time.
Feedback is an invaluable part of any business. It's essential to understand your customer's feedback, even if they choose a different company or product than what YOU recommend – because that means their experience was good!
Please don't call it anything other than reality.
Stop the blame game
Selling demands accountability, not blame. If the prospect doesn't understand your offer, explore how you can tell a better story that communicates your solution value. Selling requires a lot of hard work, rejection, and frustration.
Most people quit at the first sign of trouble. Quitting is never an option. If you're unwilling to fight for your customer, someone else will.
It's not about you
It's all about your customer's success and their payoff. However, some amateur salespeople will tell their customers they "need" to purchase by a specific time to "help me make my numbers for the month."
Here's a news flash. It's not about you. Your prospect can see right through you if you're just in it for the money. You need to be able to show that you care about their success, not just your own. If you're always talking about yourself, you will not be successful. You need to be able to focus on your customer and their needs, not your own.
Summary
Sales mistakes can cost you dearly in terms of both time and money. By being aware of the five most common sales mistakes, you can put yourself in a much better position to succeed.
You Sound like a salesperson: One sales mistake is sounding like a salesperson. This can come across as pushy and make the prospect feel uncomfortable. Instead, focus on building a rapport and being genuine in your interactions.
Not qualifying the deal: Another sales mistake is not qualifying the deal. This means not taking the time to ensure that the prospect is actually interested in what you're selling. This can be a waste of time and money.
Not preparing: A third sales mistake is not preparing properly for meetings or calls. This gives the impression that you're not organized or ready to do business.
No clear sales destination: A fourth sales mistake is having no clear sales destination. This means not having a specific goal or outcome in mind for the sale. Without a clear destination, it's easy to get sidetracked or lost along the way.
Low EQ: Finally, salespeople with low emotional intelligence (EQ) tend to make more mistakes. This means they're not as good at reading people or understanding their feelings. As a result, they may say or do things that offend or turn off prospects.
By avoiding these five common sales mistakes, you'll be well on your way to success in this vital part of your business.